In this article we also bring you up-to-date information from our collaborating centers located throughout Ukraine. Some of the reports are short but concise. Russia's military attacks, despite the longstanding tense situation in eastern Ukraine, have taken its people by surprise and brought on the need for basic humanitarian aid such as food, hygiene items, mattresses and blankets for refugees from cities affected by the fighting.
Therefore we would like to inform our donors again that development aid for children's education and their free-time activities had to be shifted towards humanitarian aid – basic needs of all children and the needy. We informed our donors about this fact via e-mail or postal communication. Each donor has the right to suspend their payments if they're only interested in development assistance by contacting our coordinator for Ukraine, Martin Kružliak, by phone or e-mail.
In the following lines, we bring you direct information from the centers for the first three days of March. Our colleagues in Ukraine thus managed to write important information directly from events in their city, even in a crisis regime.
St. Martin's Charity in the Transcarpathian Region, Mukachevo, 1.3.2022, 6:26
'In the Mukachevo area, many families from the eastern parts of Ukraine, such as Rivne, Kyiv, Zaporizhia, Kharkiv, and Kherson, find refuge. After the rocket air raids on their city, families from Rivne got into their cars within an hour and came to the Transcarpathian region. They are finding out what they did not manage to take with them in a hurry just now,' explains Katarína Pajerská, a Slovak coordinator living in Mukachevo.
Thanks to the help from Slovakia and our project, refugees were brought clothes, slippers, baby bottles, and medicines, as well as coloring books and games for children, so they can occupy themselves in the emergency accommodation in the charity premises. Katarína Pajerská further informed us: 'Shops are closing in small villages because supply is failing. Ukrainians are currently living by the motto: 'Everything for the army, everything for Ukraine.' We are trying to deliver at least basic food to the families staying here. Thank you for being with us!'
Caritas Kolomyia, 1.3.2022, 11:59
As of Monday, Caritas Kolomyia had the opportunity to use money from our project and provide the necessary petrol and necessary products in help packages for children and adults in need. Coordinator Natalia Hryhorčuk described the situation in Kolomyia as follows: 'The number of refugees is constantly increasing, and we fear that soon we won't be able to buy even the most basic things in our area, such as food, hygiene items, and drinking water.'
As credit card payments are currently limited in Ukraine, and Caritas Kolomyia is running out of funds, the Children's Donation Project will ensure that funds reach Caritas Kolomyia. "Thank you for your help, and we ask you for a peaceful prayer for Ukraine. We collect and transport products to the east of Ukraine, where it is currently difficult to provide support and humanitarian aid," adds Natalia Hrihorčuk.
Caritas Ternopil, 1.3.2022, 22:50
'Until yesterday, we were forced to hide in an anti-nuclear shelter due to an air alarm. The sirens sound often because we live in the part of Ukraine over which military planes fly. This puts us in direct danger. It is currently Tuesday, eleven o'clock in the evening, and we have just returned from the shelter with our colleagues and the people who live here.' our local coordinator, Aneta Lisa, describes the situation in Ternopil. They work at the local charity practically without a break and take turns also during the night. They share the charity's premises with refugees who come from places affected by the conflict. These are mainly women, children, and the elderly.
So far, they have not had the opportunity to exchange money for hryvnia in Ternopil because the branches of banks are closed. Fortunately, cashless payments work and can be used to some extent. 'Despite all these difficulties, the local people are also helping us. Unfortunately, we live far from the borders, and we cannot get closer to them. There are extensive traffic jams in the direction of the nearest border crossing as many people are fleeing abroad.' Aneta Lisa informs us. 'Your words and support inspire us to continue to do this work, which is important to us in all circumstances. We sincerely hope and pray that this war will end as soon as possible and that everything will be fine again.' she adds.
Caritas Odessa, 2.3.2022, 15:40
"The situation in Odessa is very tense now. The city is preparing for an attack from the sea, where many Russian warships are situated. It's scary because we often hear warning sirens, explosions and hide in bunkers. Thank you for your financial support, but soon we won't be able to use it anymore. Shops and warehouses are almost empty. Please pray for Ukraine and the people who are," Svitlana Kolodchych from Caritas Odessa wrote to us.
On behalf of the children and families we help, but also on behalf of all war-affected Ukrainians, we thank our donors and supporters for their prayers, financial, material, and other assistance. These days, the Children's Donation Project as well as the Caritas Slovakia, and all archdiocesan and diocesan charities are focusing on how to provide material assistance to Ukrainian refugees. Our project seeks to find all possible ways to quickly secure cash to purchase last of basic groceries, hygiene items, mattresses, blankets, and fuels for cooperating centers in at least the west of Ukraine.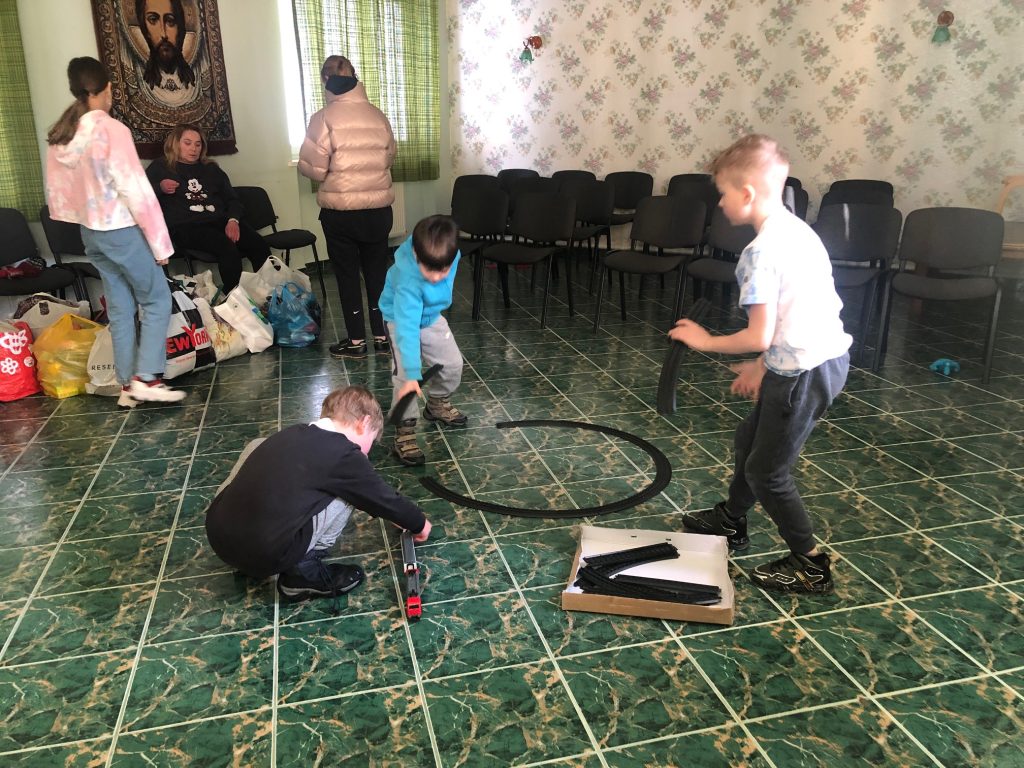 If you are interested in supporting the activities of the Children's Donation Project in Ukraine, you can refer your help to the account number of our Small Projects:
SK49 0900 0000 0051 8393 5783 and write in the note: crisis in Ukraine.
Caritas Slovakia has launched a public fundraiser. You can also support people in Ukraine on the account number: SK93 1100 0000 0029 4546 3097, VS: 380.
Author of the article: Miroslava Knapíková
Photo: Aneta Lisa (Ternopil), Katarína Pajerská (Mukachevo)