Children´s Donation project® is implemented in seven countries: Albania, Haiti, India, Kazakhstan, Uganda, Ukraine and Vietnam.
Whom do we aim to aid
The project is dedicated to the education and development of children from their preschool age until finishing their studies
Children are involved in the project, no matter their sex, religion, health condition and race, depending on specified criteria (poverty and education). Cooperation is carried out by our local partners who know the situation of the children.
The project focuses on children, who have not been able to study so far, or they had to suspend their studies due to family reasons. Completing their studies without any further help is highly unlikely. For this reason, many children visit training courses or take craft classes. We do not trace the religion of children. The project supports children until finishing their studies.
Project vision and mission
Our idea is long-term and systematic aid for children in developing countries, no matter their sex, religion, health condition and race. By completing our vision, we carry out the charitable mission of Church – fulfilling the promise of gospel love and taking care of people in need.
" Truly I tell you, whatever you did for one of the least of these brothers and sisters of mine, you did for me. "
(Matthew 25:40)
Goal of the project
Education – We help disadvantaged children to get a proper education and to improve their social status so they will be able to engage in society. We want to give them the opportunity to have a firm job in the future and to be able to secure their families financially.
Community development – Support is dedicated to children in their home country and region, to improve their living conditions and to make them motivated to stay in a well-known community, in the country where they were born.
Long-term and systematic aid – We are providing the financial support of education, and health care for destitute and socially handicapped children during their studies. The goal of our project is not solving the humanitarian crisis, but with the support of education to contribute to improving the lives of the whole society.
Our values
Service for people in need by an example of the gospel
Respecting the dignity of every human being
Altruistic and efficient aid for poor and socially disadvantaged children
Our main goal is the good of the child, his/her security and protection
Transparency and effectiveness
How do we use donated money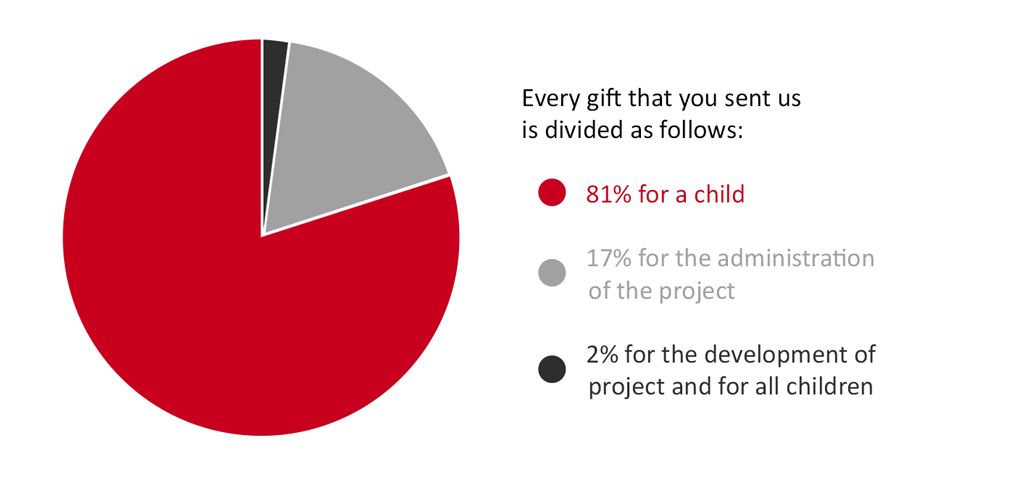 81% for child – Donation to children secure payments for:
School fees and uniforms
Backspacks, books and other school items
Healthcare expenditure
Commuting to school
Boarding school fees
Summer camps
Other needs
17% is used for administrative purpose of the project:
Postage costs when sending correspondences from centres to adoptive parents and donors, printing the envelopes with donors addresses, purchasing toner for printers
Buying envelopes to send a message to donors
Other office material, that is needed to cover the project
Charges for telephone, internet and computer program used for this project
Printing of vouchers and promotional materials about the project
Secure staffing
2% of the total amount collected is used to create Development Fund which is used to develop the project and for all children